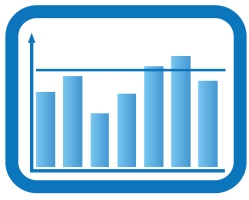 The WRA monitors the performance of the water and wastewater service providers to ensure they meet their responsibilities and to check on their progress in making service improvements. We want service providers to be publicly accountable for the services they deliver, and performance monitoring thus plays a central role in our efforts to increase transparency in the sector.
Good regulation needs reliable sector information. Whether we want to protect consumers by promoting efficiency and service delivery improvements or safeguard the long-term future of our water and sewerage services by encouraging the right investments and helping companies to achieve financial sustainability - we need an accurate understanding of the sector to make the right decisions. The results of our performance monitoring and data analysis primarily feed into two key regulatory processes: tariff regulation and performance reporting.

Performance Monitoring for Tariff Regulation
Monitoring enables us to make a correct assessment of each operator's performance and set challenging yet realistic performance targets (or 'benchmarks') that acknowledge current ca-pacities. Achievements are measured in terms of defined Key Performance Indicators. Whilst we use this standardised set of indicators across the sector, performance targets are tailored individually for each service provider as we seek to promote improvements for weak operators and current high achievers alike. Meeting their targets is essential for service providers seeking tariff adjustment, as they have to demonstrate satisfactory performance before we will approve any request for tariff adjustments.
Performance Report
Every year, the service providers' operational, financial and customer service performance is subjected to public scrutiny when we publish our Performance Report. In each report, we examine the providers' performance individually and in comparison with that of their peers, highlighting the best as well as particularly poor performers in the country. It is also an opportunity for us to reflect on strategic sector goals, current trends and best practice in Albania.
Through our Performance Report, service can ap¬praise their own performance against that of other service providers operating in similar environments, and so recognise their own strengths and weak¬nesses and learn from more effective or efficient operational or management practices developed elsewhere.
Enabling all stakeholders, including customers, to track progress in the water and wastewater sector and chart the performance of their local provider also provides a powerful incentive for service providers to strive for excellence in service delivery. We trust that utility managers will prefer to see their company named amongst the better, and certainly not the worst, in each subsequent report.

Data for Performance Monitoring
To evaluate operator performance we currently make use of data supplied by the providers themselves as well as the database of the Monitoring and Benchmarking Unit (MBU) of the General Directorate of Water Supply and Sewerage within the Ministry of Public Works and Transport. As our data requirements go beyond those routinely collected by the MBU, we request additional, more detailed information from service providers, particularly as part of the tariff adjustment process. The WRA is empowered by law to perform on-site inspections to verify the accuracy of data provided by the operators.
We are conscious of the fact that our analyses of the 'hard' performance monitoring data may not always present us with the whole picture. We aim to place these results into their real-life context, which is why we are looking to consider further, more qualitative information in our monitoring approach, such as, for instance, feedback collected in
Public Hearings
or through customer complaints.